Which is best? Oral Supplements or IV Vitamin Therapy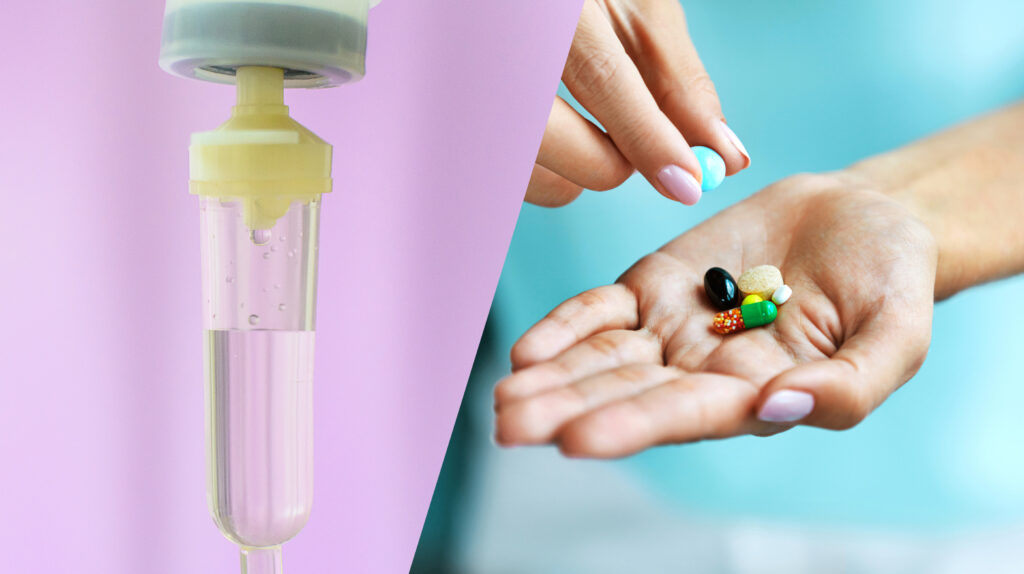 But Which is Better? 
Taking vitamins and nutrients via the IV route is completely different. The IV delivers 100% of each nutrient into your bloodstream by bypassing the digestive system. You get a much higher concentration of vitamins than you can ever get via oral intake. Immediately after getting your treatment, you begin to benefit from increased hydration and the effects of the vitamins. Whether it's part of your regular wellness routine or an occasional pick-me-up when you're under the weather and need a boost, IV therapy provides an uptick in your wellbeing.
What is IV Therapy?
Intravenous therapy, commonly known as IV therapy, is a process of delivering high doses of nutrients to your body by injecting them directly into your veins. IV therapy allows for nutrients to bypass your gastrointestinal tract for complete absorption. IV nutrient therapy provides a safe and effective way to deliver key nutrients to your body.
Since these vitamins and nutrients are delivered straight to your circulatory system, your cells are able to use them immediately. IV nutrient therapy is fast-acting on your body helping you to feel better sooner. Whether you're struggling from nutrient deficiencies, malabsorption, or chronic conditions, IV nutrient therapy can help restore your body's natural balance fast.
Difference Between IV Therapy and Oral Supplements
As we already know, both IV therapy and oral supplements share the same objective: to deliver appropriate nutrients to our bodies without compromising efficacy. However, both approaches are far more distinct from each other than one might expect. The primary and most obvious difference is the way nutrients are delivered to the body.
Oral supplements are consumed orally in the form of capsules, tablets, and even liquids, and all one needs to do is simply swallow the supplements. On the contrary, in IV therapy, the nutrients are delivered to the body using needles injected into our veins, enabling the nutrients to go straight to our bloodstream.
The difference between absorption of IV and oral vitamins is enormous. Oral vitamins do have true benefit in ongoing maintenance and treatment. They're also effective in helping decrease the likelihood of nutrient deficiencies if your digestion is good.
But those nutrients must travel a laborious pathway in which many of them are not absorbed and excreted via the digestive tract. That's not the case with IV vitamins. They move directly into your body's cells without ever passing through the gut.
Why Choose IV Therapy Over Oral Supplements?
Customized Treatment
Different bodies have their own unique needs and requirements for treating any health condition. With IV therapy, your naturopathic IV doctor can seamlessly tailor the ideal combination of the right fluids and nutrients to address the specific health requirements of your body. Interestingly, there are certain scenarios where doctors use the combination of both IV therapy and oral supplements to deliver the right nutrients or medications.
Enhanced Hydration From The Inside
It is no secret that fluids are the foundation of any drip. Apart from being an excellent way to deliver nutrients, IV therapy can hydrate our bodies far more efficiently than one can achieve simply by drinking water. There are a few different types of liquids used in IV therapy. Most commonly known is saline and the second is lactated ringers.