Love The Skin You're In – Discover New Depths with Morpheus8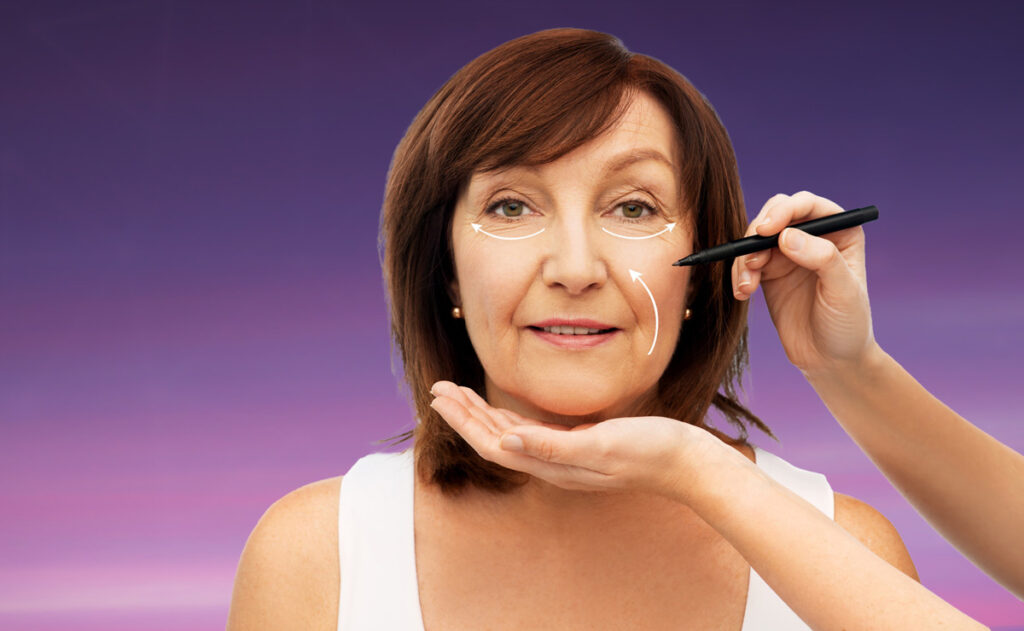 We have had lots of questions about what to expect and the experience of Morpheus8, so read on to discover what everyone is asking about!
Morpheus8 is a non-surgical treatment that combines microneedling and radio frequency. Together, these technologies help you achieve skin enhancement and rejuvenation. Morpheus8 treats both the superficial and deeper layers of the skin. This innovative treatment stimulates the production of new collagen, elastin, and fresh skin cells which help to naturally reduce fine lines and wrinkles. Additionally, the customizable depth of treatment also targets the adipose (fat) tissues, resulting in contouring of troublesome areas such as a double chin or jowls.
What Can I Expect During a Morpheus8 Treatment?
Your appointment will begin with applying a topical numbing cream. However, if needed, we do have other options for pain control that you can discuss with your provider.  We typically recommend taking Tylenol as well to help minimize the discomfort. During the procedure, a handheld device is pressed into the specified area of the skin, allowing micro-needles to perforate the skin. Once the micro-needles are in place, they generate radio frequency (RF) waves to penetrate deep into the dermal layer. Each stamp of the needles only takes an instant and since the needles are tiny, most patients tolerate the procedure well. You can expect mild redness and swelling immediately post procedure, which tends to subside within 2-3 days. Results are generally seen a month after treatment with continued improvement over time and with subsequent Morpheus8 treatments.  
How long does a Morpheus8 procedure take?
The forehead, brow, upper lids, lower lids, whole face, and neck can be fully treated in under one hour.
Who is a Candidate for a Morpheus8 Procedure?
This simple and safe treatment delivers excellent results for all skin types. There is no particular age restriction for a Morpheus8 treatment, and there is no specific trait that defines a "good" candidate. Fundamentally, good candidates are patients who would like to repair sagging cheeks, deep facial lines, and small deposits of fat on the face and neck. In other words, those who wish to reverse the signs of facial aging represent ideal candidates for a Morpheus8 treatment. Morpheus8 is great for all skin types and can be used for both acne scarring as well as a treatment for acne (even with active acne flares). However, as always, the best candidates are in good physical health and have realistic expectations regarding the outcome of their treatment.
What does the "8" refer to?
Morpheus8 is the only device that has the ability to deliver RF energy as little as 1 mm into the skin surface, or as deep as 8 mm, depending on the goals of treatment. The skilled practitioners at the IV Health Centre will design a treatment protocol to meet your skin type and goals. Skin rejuvenation and firming treatments penetrate 1-4 mm. Treatments that require a deeper depth of penetration help to address fat deposits and contour the face and neck.
Morpheus8 Versus Microneedling
The effects of Morpheus8 combines two clinically proven treatments – microneedling and minimally invasive radio frequency treatment – to trigger collagen and elastin production, tighten fibers and contour fat. While ordinary microneedling can only target skin to a depth of 1.5 to 2 millimeters, the Morpheus8 is tailored to each patient's needs and the depths can be adjusted anywhere from 0.5mm to as deep as 8mm. This allows fat contouring at deeper depths while superficial depths target skin rejuvenation. Morpheus8 can treat the entire face and neck in one treatment, from delicate tissue around the eye to thicker skin around the neck and jawline. This results in firm, radiant skin.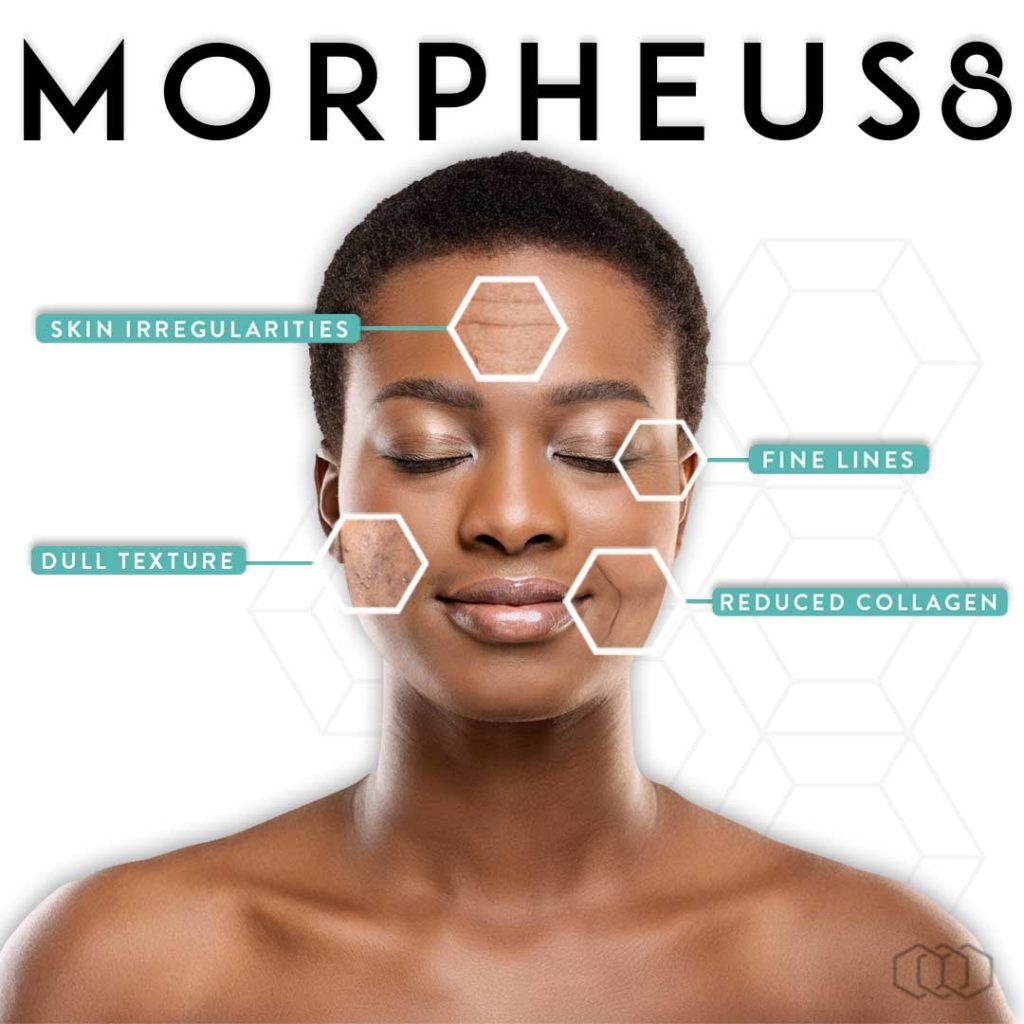 Morpheus8 Benefits
Morpheus8 allows you to experience the benefits of a facelift without the need for surgery. It is the perfect treatment for patients looking for gradual, scarless, skin correction. This advanced microneedling treatment penetrates deep into the skin and fat to rejuvenate aging facial features.
The main benefits of Morpheus8 include:
1. Increase collagen production  
Morpheus8 introduces a new way to build collagen in the face. After the age of 20, the dermis layer produces 1% less collagen each year. Morpheus8 induces collagen production, resulting in firmer, fuller, and younger-looking skin.
2. Diminish fine lines and wrinkles  
Morpheus8 can be used to improve aging around the eyes, mouth and forehead. Following your treatment, you will see noticeably tighter, brighter, and smoother skin with fewer lines and wrinkles.
3. Lift and tighten loose skin  
Similar to a facelift, Morpheus8 can reduce sagging around your neck, chin, and jowls. It can also help diminish large pores for smoother looking appearance.
4. Minimize acne scarring  
Morpheus8 can be extremely effective treatment for acne. The treatment can shrink or shut down the oil glands under the skin, preventing excess skin oil production that leads to acne. It can also treat acne and acne scars that form after your acne has healed, reducing the appearance of acne scars by up to 50% and smoothing out the skin's overall texture.
5. Contour the face and neck  
Can help to decrease fatty deposits and provide facial and neck slimming, as the radio-frequency helps to target deeper layers in the skin.
Risks of a Morpheus8 Procedure?
Like all procedures, Morpheus8 treatments come with the risk of potential complications. Our providers are very skilled and come with many years of hands on injectable experience, as such, the risk of a significant complication is extremely low.
Morpheus8 side effects that have been noticed:
Redness  
In most cases, redness is resolved in the days after the procedure.
Swelling  
As in the case of redness, the skin may appear flushed and swollen immediately after the procedure. However, this should subside within a few days. In most cases, redness is resolved in the days after the procedure.
Bruising  
Bruising is typically imperceptible but can occasionally be visible after the treatment. Some areas are more prone to bruising such as the area around the eyes.
Morpheus8 Downtime
Morpheus8 recovery is relatively easy, with just a few days of social downtime. After your treatment, you can expect three to five days of redness, itchiness, and swelling. That means you can schedule the procedure on a Friday and likely be restaurant-ready by Monday, depending on the intensity of the treatment and how quickly your body heals.
Although the Morpheus8 treatment is a non-invasive procedure with little need for downtime or recovery, it is still recommended to take it easy for about 3-5 days to ensure proper healing. Immediately after your treatment, you will look and feel like you have a moderate sunburn, and your skin may feel warmer or tighter than usual. You may notice some pinpoint marks in square patterns from the device, this may last up to 7 days.
To aid the healing process, avoid exercising or strenuous activity for 24 hours post-treatment and do not apply makeup until 48 hours after the procedure. Throughout this time, reapply sunscreen and avoid intentional or direct sunlight. You can resume work or normal activities directly following treatment.
Morpheus8 Post-Procedure Aftercare
Following your treatment, use a soothing cleanser or face wash with lukewarm water to wash your face and follow up with a gentle moisturizer or healing ointment. If you choose to go outside, apply a broad-spectrum UVA/UVB sunscreen to protect your skin. Makeup can be applied two days following your treatment. Our practitioners will recommend cleansers and skin care for you according to your skin type and skin concerns.
Now is a great time to book for your Morpheus8 treatment and experience the benefits of this innovative treatment! Call 604-974-8999 or email info@theiv.ca to book today!