Supporting the Body While Working From Home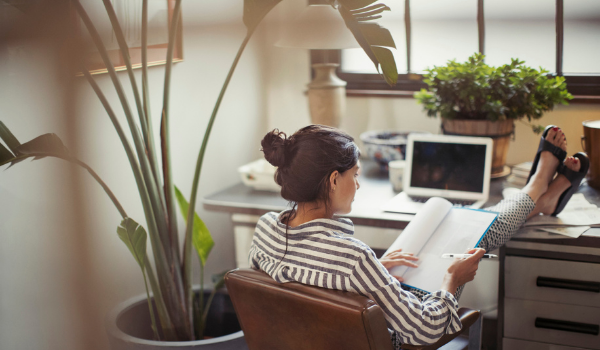 There is no doubt that this past year has brought forth many challenges and changes to our everyday lives. Throughout all of this, a large and unforeseen change that many people have been experiencing is the transition to working from home. For many people working remotely is a welcomed blessing, but so many are actually very ill-equipped to properly handle this transition. We are not only starting to realize that improper office set ups and poor ergonomic habits are starting to take a toll on productivity, but we are also noticing that it is starting to make an impact on how our body functions after a long workday. 
If you're feeling a lack of focus and/or aches and pains in your body these days, here are some tips to help boost your efficiency while preventing pain and injury when working from home.
Tips for setting up a proper workstation
Find a table or desk that allows your elbows to fall naturally in line with the desk height, with no upward or downward bend in the elbows or wrists. Your shoulders should be relaxed in this position. Your elbows should have a 90-degree angle, and your wrists should be straight while typing at your keyboard. This positioning will allow proper wrist and elbow alignment and help to prevent injuries such as carpal tunnel or tendonitis. If you cannot find a table that allows for proper arm and wrist alignment, it is sometimes easier to find a chair that is adjustable in height in order to compensate for the discrepancy.  


Ensure your feet are stable on the floor, with your thighs parallel to the ground. Just like it is important to have that 90-degree angle for the arms and wrists, it is important to maintain this angle for the bend at the hip and your knees too. If your chair is too high, place a few books or a small box under your feet to ensure your legs are not dangling. This will help to reduce stress on your lumbar spine. 
 

Adjust your laptop or computer height so that you have a clear view of the middle of the screen without your head tilted up or down, and make sure it is directly in front of you while working. If you use two monitors to work, make sure that you are adjusting your body to turn towards each monitor instead of only rotating your head while working. This can help to reduce tension and pain in the neck, as well as prevent potential headache.


Tips for preventing fatigue: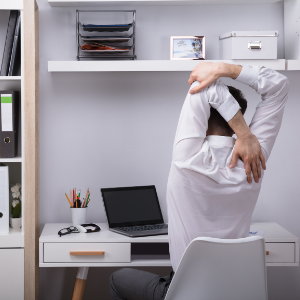 When we are looking at the computer all day, it can really put a lot of strain on the eyes. Try to ensure that you are taking small breaks every 20 minutes or so to give your eyes at least a 30 second break from staring at your computer screen. You can simply look away and focus on something in the distance or close your eyes to reduce fatigue from eyestrain.  


If you can, try to get up once per hour and move your body. This could be a short walk around your living room, 10 jumping jacks, or even some gentle stretching. Activating your muscles throughout the day will help with lymphatic drainage and give the body's circulation and oxygen intake a boost. If you are unable to get up from your desk for longer periods of time, you can perform isometric contractions by focusing on squeezing certain muscle groups, holding the contraction for 3-5 seconds, and then relaxing. 


As often as possible, try to do a body scan and become aware of where you might be holding tension. Are your shoulders raised, or are you hunching forward – causing tension in your back or chest? Bring yourself back to a comfortable and neutral body position and carry on with your work. Especially when sitting in the same position for long periods of time, having proper body awareness can help to prevent tension from forming. 


Remember to stay hydrated and don't forget to eat! Try to set up scheduled breaks for yourself to make sure that you are giving your body a proper amount of water and nutrients throughout the day. Swap unhealthy snacks for energy-boosting alternatives to make sure you keep your body and brain nourished at all times.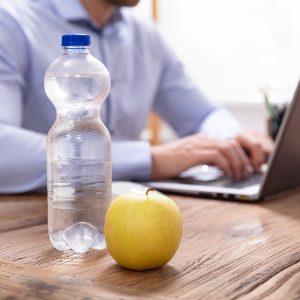 For many of us, adjusting to a new schedule or routine can be challenging, and focusing on self-care is crucial to our physical and mental well-being during this time. Make sure to keep your body and mind feeling good by setting healthy work-life boundaries, staying active and getting outdoors, and regularly receiving hands-on treatments to decrease any discomfort or built-up tension in your body.
To get support in releasing tension, or to just give your body a reset, book your next massage therapy appointment with Marly Hill, RMT.
For more information call the IV at (604) 974-8999 or email info@theiv.ca