How To Relieve Persistent Pain with Trigger Point Injections
If you're suffering from more body pain and stiffness these days, you are not alone. These days many people have increased tension and muscle dysfunction whether from poor posture with home office setups or just increased stress that is manifesting in the body.
Trigger point injections can stop the pain cycle and restore healthy muscle function by releasing the tension and allow you to get back to living in your life.
What are trigger points? 
Knots, or trigger points, are areas of tension and pain that originate and persist in muscle tissue. These knots can cause pain that is local and that radiates to other areas of the body. These painful areas don't usually resolve with our go-to arsenal of heat, stretches, or massage therapy and can even worsen over time. The tight bands of muscle fibers feel hard and clustered to the touch and can cause pain when pressure is applied to them.
Trigger points often develop in people with chronic musculoskeletal syndrome disorders, repetitive work injuries or hobbies that require repetitive motions. Acute trauma can lead to muscle irritation and stress which also generate trigger points.
The most common areas of the body that experience trigger points are the upper back, neck, shoulders, and as well as the lower back. Despite common painful areas, trigger points can ultimately develop in any muscle. Poor posture, particularly while seated at a desk, is the main culprit for developing trigger points.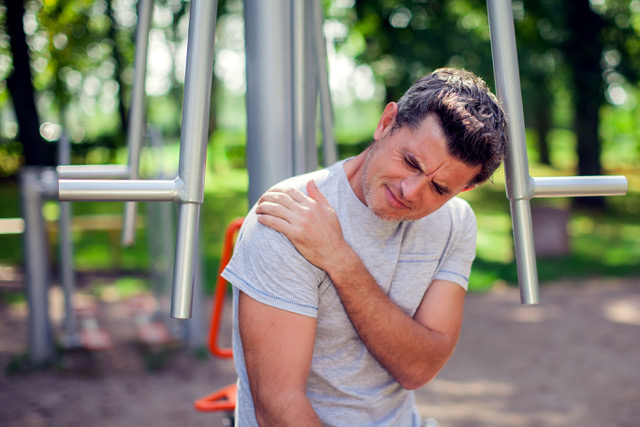 How pain impacts our health
Living with chronic pain has a huge impact on our health overall. The physical and mental stress of being in pain is draining. Pain affects our ability to lead active and healthy lifestyles. Pain also gets in the way of restful sleep which impacts how well the body can heal, regenerate and repair.
Regardless of the cause, pain restricts our range of motion and activities, in turn leading to muscle weakness. It can interfere with proper rehabilitation following injuries and make it challenging to maintain regular exercise for a healthy body and mind.
Trigger points are often resistant to release through stretches or massage and usually worsen over time. When muscle tension persists, the nerves begin to get irritated. This irritation can cause further muscle tension and pain. This vicious cycle is what makes trigger points difficult to resolve. Massage treatments for trigger points can be really painful and although they help to reduce pain temporarily, it often isn't sufficient to fully release the trigger point.
How can trigger point injections help?
Trigger point injections can break the pain cycle by numbing the pain, physically creating space between muscle fibers and flushing out inflammation, thereby restoring healthy muscle function.
The treatment involves a solution of an analgesic (lidocaine) diluted with dextrose or salt water, administered directly into the trigger point. This combination of fluids helps to break up adhesions and release tense muscle fibers. These injections are minimally invasive and pose very little risk. The benefits are felt both immediately and over time as the lidocaine helps to reset the nerves and allow the muscles to relax.
Once your muscle tension releases, your range of motion improves, and you will even be able to maximize the therapeutic effects of other rehabilitative physical treatments such as chiropractic adjustments or physiotherapy.
Trigger point injections for treating muscle tension or pain related to:
Fibromyalgia
Chronic pain
Tension headaches and migraines
Neck pain
Low back pain
Structural imbalances
Poor posture
Concussion and/or whiplash
Overuse injuries
If you think you may benefit from trigger point injections, book in for your Naturopathic Trigger Point Injection consultation with Dr. Brett Simpson, ND to see if it is the right treatment for you. Call the IV health centre at 604-974-8999 or email us at info@theiv.ca
-Dr. Brett Simpson, ND