IV Vitamin Therapy – Keeping your immune system strong
This fall getting a cold means so much more than just a day or two off of work. As cold and flu symptoms are similar, if not the same as COVID-19, getting the sniffles could turn your world upside down. This is why it is important now, more than ever, to keep your immune system strong and healthy.
One of the most effective ways of doing this is through IV vitamin therapy. Certain nutrients can support the immune system both in regular doses and/or with more robust treatments. IV vitamin therapy is one of the most effective ways to decrease your susceptibility to colds and flus. IV vitamin therapy treatments are effective because they contain a combination of vitamins, minerals, amino acids and antioxidants in high doses that are delivered directly into your body, bypassing the digestive system, ensuring all nutrients are 100% absorbed.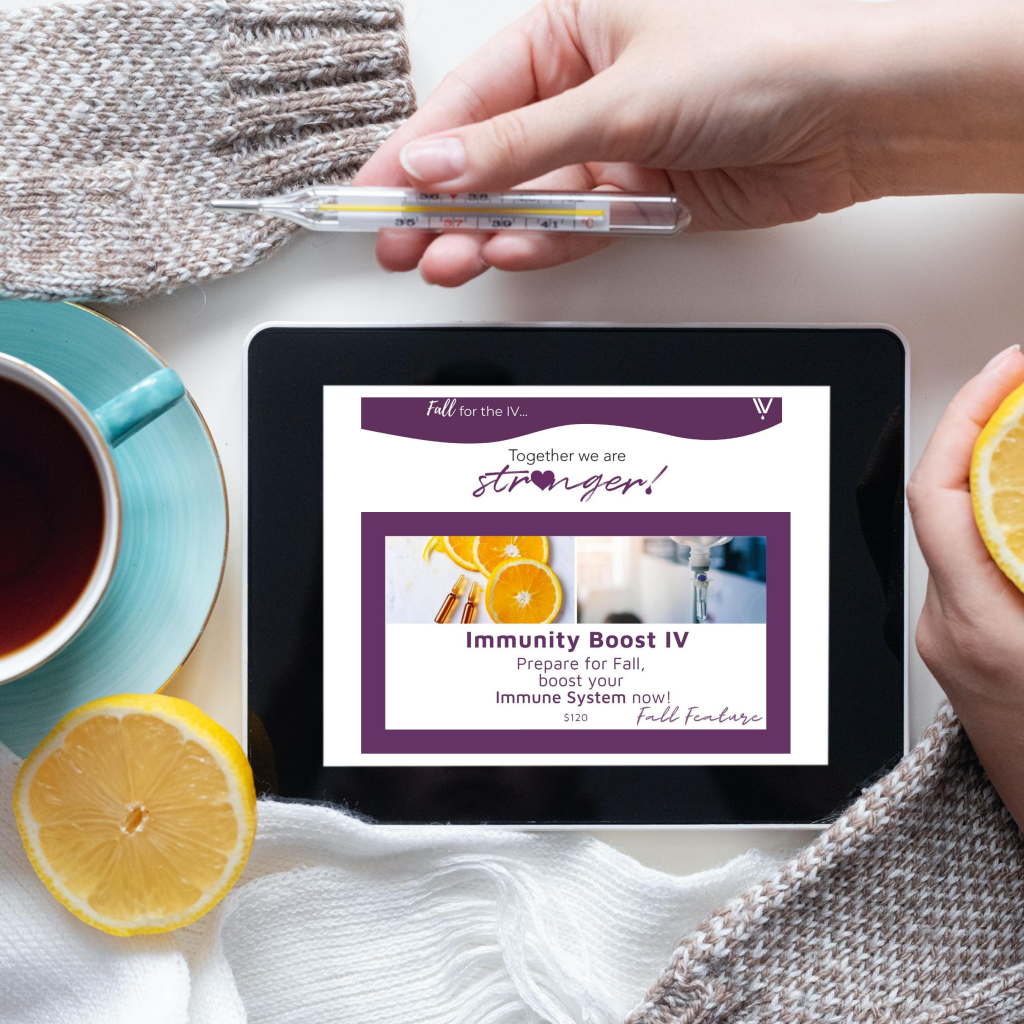 Two important immune system nutrients in IV vitamin therapy
Vitamin C has been long proven to be an essential part of a healthy immune system. It decreases a virus' ability to replicate. By hindering viruses from replicating, your immune system can get the upper hand and can fight off a virus quicker. Additionally, your immune system has a greater need for Vitamin C when it is fighting viruses. Thus, during the course of infection, your immune system can burn through its Vitamin C stores. When depleted of Vitamin C it becomes less effective at its job, which will lead to a weaker immune system. High dose Vitamin C delivered intravenously has been effective in many viral illnesses, including the Eptsein Bar virus, Mono, Shingles and even the flu.
However, because the COVID virus is so new, IV Vitamin C has not been proven to be effective at either preventing or treating it. In fact, there are currently no proven treatments for it. Numerous studies are currently testing many treatments and even IV Vitamin C.
Zinc helps the immune system to fight off invading bacteria and viruses. It is a common mineral that is added to IV vitamin therapy. The body needs zinc to make proteins, DNA, and zinc is essential to wound healing. When there is severe zinc deficiency, we are much more likely to get severe infections, and our ability to heal is compromised. Interestingly zinc helps to balance the immune response too. To protect us, it is essential for our immune system to react, but if it overreacts, damage can also be done. Zinc keeps the immune system in check – to protect our body from an invader and to regulate our immune system to ensure it does not do more harm than good.
Taking charge of your health is essential to your overall well-being, and the IV is here to ensure that we support you, your family, and our community now and into the fall. Book in for our fall feature, an Immunity Boost IV, to start preparing for the fall today!  Call us at 604-974-8999 or email us at info@theiv.ca
-Dr. Erica Kubanek, ND