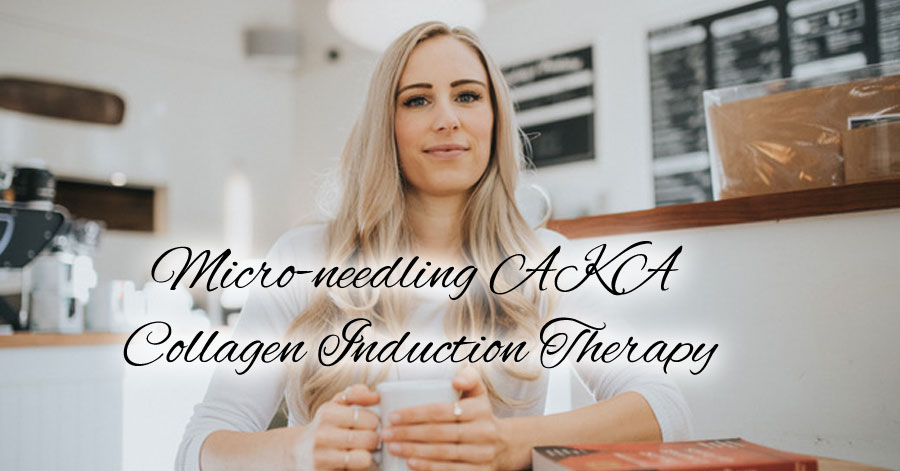 I've wanted to add micro-needling to my practice for a long time now, so I decided to finally try it for myself. About a week ago I had my first session and absolutely loved it. Since the treatment my complexion has looked more even, and thus been wearing less makeup. It also noticeably reduced some pigmentation that I have from sun damage. About three days post-procedure my skin started to lightly peel so I helped it along with my Active Exfoliant Powder by GM Collins. I also used plenty of Intense Moisture Serum by GMC Medical and now my skin is radiant and healthy looking.
Micro-needling is a minimally invasive treatment that involves the creation of thousands of micro-channels into the skin.
These 'micro-injuries' stimulate the body's natural healing response, and collagen and elastin fibers are produced to heal the tiny wounds. At the same time, old collagen is broken down. A study published in 2008 found that participants who had four micro-needling treatments, one month apart, had significantly higher collagen and elastin in their skin, six months later.
Micro-needling has a wide range of uses including the treatment of fine lines and wrinkles, sun damage, skin tightening, pigmentation, acne scars, stretch marks and hair loss. A short-term plumping occurs immediately while the slower, longer-term cell proliferation and collagen regeneration occur in the background.
Three to six treatments are recommended depending on your unique needs. Six to eight treatments are often required for acne scarring. The procedure has a low risk of mild side effects and a short recovery time.
At the IV, we use the CosmoPen, an electric device that has twelve tiny needles with an adjustable speed and depth. In subsequent visits, the depth can be adjusted so the needles go deeper as your skin gets thicker and more robust.
This helps mitigate the natural collagen loss that inevitably occurs with age.
The actual treatment is quick and relatively painless. After thirty minutes with a topical numbing agent, you will barley feel the procedure. There is an option to add on a soothing mask post-treatment to help cool this skin down and deliver key nutrients when absorption is highest. In the future we will be offering the addition of platelet rich plasma, a solution made from your own blood that is rich in growth factors for healing and regeneration. Results may vary from person to person so be sure to talk to your health care provider about what will be best for your skin.
Book your complimentary consultation to see if this treatment is right for you.
— Dr. Nicola Bennett, ND
To book an appointment with Dr. Bennett visit our website at theiv.ca or give us a call at 604-974-8999