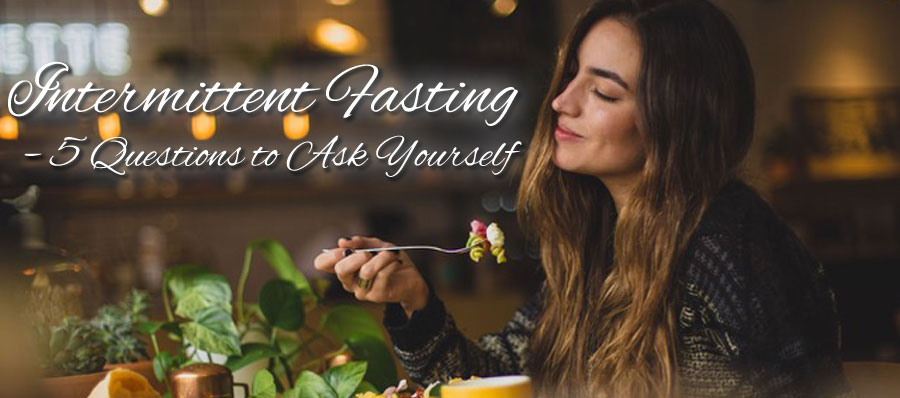 Weight loss may be on your mind with the new year having just arrived. There are many different methods to achieve your goal and get to your most optimal weight. One popular method is intermittent fasting – providing a time frame to both consume food and hold off from eating so that your body is able to use its own fat stores as energy.
To determine if this method is the right weight loss tool for you, here are five questions to consider:
What type of intermittent fasting do you want to do? – There are many variations of how many hours you can fast or eat, and on what days of the week to do so. Some people fast for 12 hours, some for 20 hours. Some people fast only 1 day of the week, while others choose multiple days. One of my favourites ways to intermittent fast is by implementing a daily 8-hour window to eat and 16 hours to fast. For instance, for each day you may eat your meals and snacks from 11am to 7pm, and then fast from 7pm to 11am the following day.
What is your schedule like? – To decide what time is best for you to fast, think about when you are most likely wanting to eat. For instance, if you know your mornings are busy and will distract you from feeling the need to eat, it might be best to break your fast at lunch and eat through the day. No matter what time you choose to start, it is best to leave a few hours for your body to digest before bedtime.
Do you have time for a transition period? – It may take time for your body to get used to intermittent fasting. At the start, you may feel hungry and not at your most optimal. I often suggest my patients experiment with the timing for a week before deciding on a time frame for their fasting. Allow yourself time for trial and error.
Are you aware of your body? – It is very important to make sure you are taking care of yourself when partaking in intermittent fasting. If you find yourself to be lightheaded and shaky, this is a sign the fasting is too much for your body! Take time to reflect on what you can change in your method – perhaps you may need to simply work your way up from a shorter fasting period or adjust your hours of consumption
Is intermittent fasting even right for me? – Some individuals that have poor blood sugar control may have difficulty with fasting for long periods of time. If you find yourself hungry when skipping meals, feel extremely tired after meals, or feel the need to snack often, you may not have the most optimal blood sugar control and intermittent fasting might not be right for you.
As naturopathic doctors, we have many tools to assess if intermittent fasting is optimal weight loss tool for you. There are simple blood tests that can be done and a calculation to determine your level of insulin resistance which shows how well you regulate your blood sugar. If you are wondering what the best way is to get to your most optimal weight, we have varied weight loss programs that can be customized for most efficient results.
— Dr. Kay Wong, ND
To book an appointment with Dr. Kay Wong, ND, visit our website at theiv.ca or give us a call at 604-974-8999.