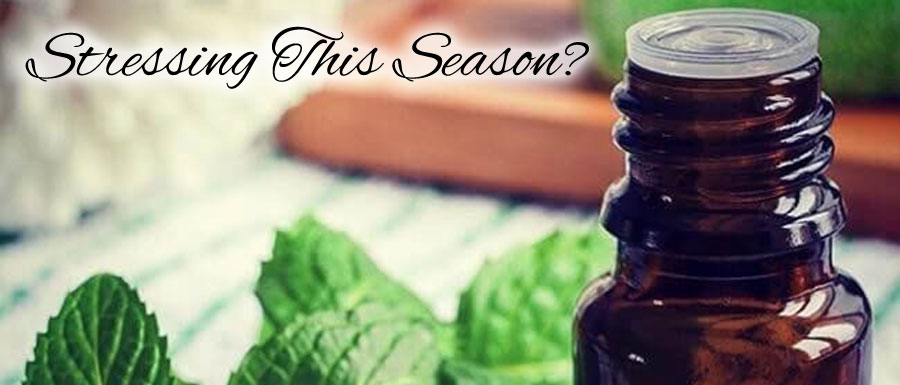 Stress is the worst – especially over the holiday season. Learn how peppermint oil can help you to alleviate the symptoms of stress so you can enjoy and be present.
One of the fundamental concepts of Chinese Medicine is to allow the free flow of Qi to all the organs, muscles and channel systems, which in turn create the foundation of good health. When this energy flow becomes stagnant or deficient, our body will begin to notice and create signs and symptoms, such as stress, to get our attention.
The physical symptoms of Qi stagnation include neck tension and pain, bloating, distension, and sometimes difficulty sleeping. The emotional symptoms of stress include irritability, frustration, resentment, agitation and feelings of overwhelm.
One of the easiest quickest ways to combat stress in an instant is to use an essential oil.
When receiving acupuncture, needles are place carefully at specific points to allow us to regulate the flow of Qi. The same Qi flow can be affected by essential oils in a very direct way by smelling, applying to the skin or by placing the oils into salt for your next bath. Since essential oils are applied directly to the skin or inhaled, they can act quickly and directly, and can be used to address the effects of Qi stagnation on both the physical and psychological level.
The most revered oil used to treat stress and to create better Qi flow is peppermint oil. Those of you who the use the "Pepperment Halo" from Saje, know and love it accordingly. Peppermint oil will instantly refresh and enliven you. It is used to treat a variety of conditions including stress, depression, enhanced mental focus, colds, tight muscles and even headaches.
Chinese Medicine has long used peppermint to:
Clear Wind-Heat – wind is the first climatic factor to enter the body and can be used on first signs of cold and flu, like a sore throat.
Regulates Liver Qi Stagnation – Spreads qi around the body to treat and prevent feelings of constraint, stress and depression.
Open Portals – Peppermint oil is better than most when there are emotional changes that need to occur or when there is an inability to see what needs to change or happen next. Peppermint will open the orifices to allow you to see a new vision or possibility.
Regulates Wei Qi (protective layer) – To relieve itch or muscle spasm.
Essential oils allow us to take immediate action to help our body calm down. Although best to consult a medical practitioner for deeper insight, peppermint oil is considered safe to use for everyone.
— Sarah McGuire, RAc
To book an appointment with Sarah McGuire, visit our website at theiv.ca or give us a call at 604-974-8999.