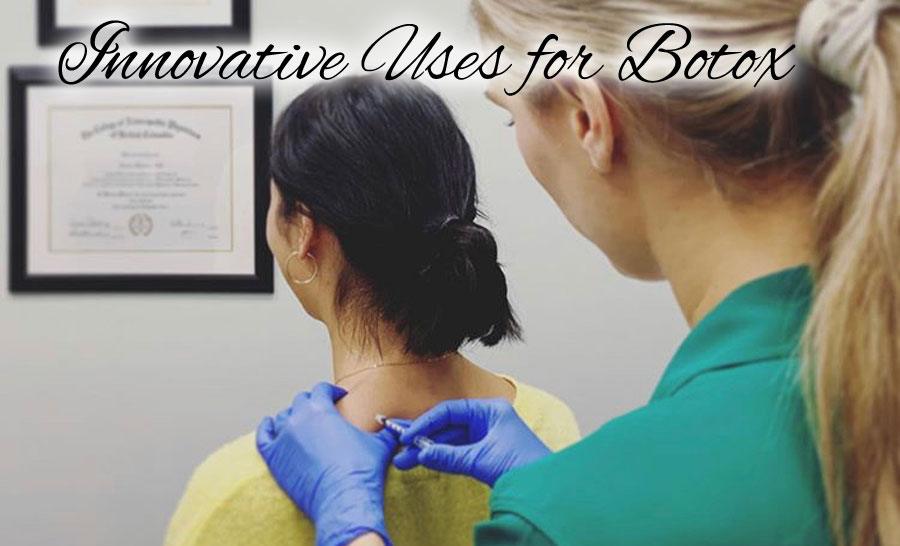 Did you know that neuromodulators like Botox and Xeomin can be used for more than just aesthetic purposes? Botox works by blocking the signal from the nerves to muscles, causing a relaxing effect.
So, what does this mean? Botox and Xeomin can be used to treat issues such as overly tight muscles, neck pain, jaw pain, headaches and even excessive sweating.
Muscle Pain
This non-invasive treatment is very effective and typically lasts for 3-5 months. Expect your appointment to be quick – just fifteen to thirty minutes depending on the area treated and the number of units you needed for your unique concerns. Because such a small needle is used, the injections are almost painless; some people don't even feel them all. Ice can be used to reduce the risk of bruising and also ease any discomfort.
Excessive Sweating
Botox can be used to treat excessive sweating, or hyperhidrosis, by blocking the signal from the nerve to the sweat gland. This treatment typically lasts for 8 months. Again, ice is used in the underarm region to reduce the risk of bruising and make the injections more comfortable. For the palms of the hands, which are a bit more sensitive, a topical numbing cream is applied for 30 minutes before the treatment.
If you find you have been suffering from chronic headaches or excessive sweating, treatments such as Botox can be beneficial. They are typically covered under certain extended health benefit plans, so check with your medical provider to see how we can help.
— Dr. Nicola Bennett, ND
To book an appointment with Dr. Bennett, ND visit our website at theiv.ca or give us a call at 604-974-8999