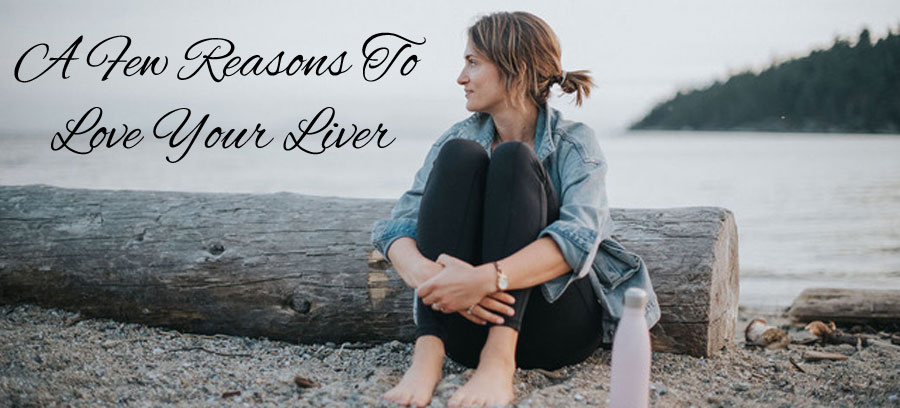 We know our livers are important organs that support our ability to detoxify, but we don't often hear about all its other amazing functions. I wanted to highlight a few of the other vital roles the liver plays in keeping us happy and healthy. The important thing to understand is that when our livers are bogged down by our daily toxic exposures, we can start to notice other areas falling out of balance.
Spoiling our livers with a little TLC, goes a long way.
Skin – If the liver is bogged down, the skin is another way that our bodies will try to push out impurities. On top of this, the liver metabolizes hormones, and if they are out of balance, our skin will also flare.
Hormones – As I mentioned above, the liver processes our hormones and is part of maintaining the optimal balance or ratio of hormones to sustain our reproductive wellbeing. When hormones are out of whack, our menstrual cycle can become irregular, we may have issues with fertility, quality of sperm is affected, moods can be volatile, and sleep will be disturbed. The list could go on, as our hormones are key messengers that affect many other systems in the body. The liver is also one of the main sites where our T4 thyroid hormone is converted into its active form, T3. Without the activation of T4, we don't enjoy the benefits of a healthy thyroid.
Digestion – The liver produces bile which helps break down fats in the digestive tract, and this is one way that the liver is able to promote elimination of toxins in the body. The liver is involved in carbohydrate, protein and fat metabolism. A sluggish liver can lead to issues breaking down the foods we eat into its absorbable parts, and therefore can result in nutritional deficiencies and fatigue. A bogged down liver often leads to constipation as well.
Nutrition – The liver is involved in nutrient metabolism as well as storage. The liver will store fat-soluble vitamins (vitamins A, D, E, K), B12, and minerals such as copper and iron. The liver also functions to convert certain vitamins such as vitamin D, into the active form (D3) which is responsible for the benefits of vitamin D.
Blood sugar – The liver takes in glucose with the help of insulin and repackages it into glycogen stores. These glycogen stores can then be released into the blood stream when the cells need more glucose, and in this way the liver helps with blood sugar regulation.
Immune – The liver is constantly working to detoxify and filter the blood as it comes in from the digestive system. It contains its own white blood cells and lymphatic system which works to extract, disarm and detain toxins (bacteria, viruses, parasites, pesticides, heavy metals, worn-out blood cells and cellular debris) before sending the blood back up to the heart, and in turn back into systemic circulation. The liver will try to rid the body of these toxins via the colon and kidneys but will store additional toxins in attempt to protect the rest of the body. When the liver is burdened, we will suffer more colds and flus, headaches, inflammation, pain, and fatigue.
Aging – As we age, we produce less antioxidants. Antioxidants are needed to minimize damage and destruction of cells caused by the free radicals we are consistently exposed to. We accumulate toxicity with age, and therefore, require more support in maintaining the healthy balance.
Athletics – Athletes use more glucose to supply energy to muscles. The stored glycogen in the liver is broken down and released when needed to prevent hypoglycemia and maintain energy supply to muscle cells. This means athletes push the liver more than the average person.
How to support our liver:
Minimize exposures to daily toxins – Pollution (air, water), food (hormones, antibiotics, heavy metals, pesticides, additives), plastics (BPA, phthalates), cosmetics, fragrance (candles, air fresheners), bacteria and viruses, pharmaceuticals, radiation (cell phones, computers, flights).
Foods to limit or avoid – Caffeinated beverages, soft drinks, alcohol, artificial flavoring, preservatives, sugar, dairy, wheat, corn, red meat, processed meat, hydrogenated fats.
Foods to enjoy more of – Brassica family (broccoli, Brussel sprouts, cabbage, collard), apples, beets, garlic, grapefruit, fennel, artichokes, lemon, bitter greens, fiber (psyllium, flax seeds), lecithin, apple cider vinegar, water.
Optimize lifestyle – Exercise, reduce stress, improve sleep, hydrate adequately, try skin brushing.
There are so many reasons to appreciate our liver. It is important to understand how we affect our bodies by overburdening our livers with toxicity. The good thing is there is also so much we can do to minimize the workload, and support our livers many functions. For more information, don't hesitate to book in with one of our naturopathic doctors to learn how to incorporate daily shifts, to live with a happier and healthier liver!
— Dr. Brett Simpson, ND
To book a naturopathic appointment with Dr. Brett Simpson, ND, visit our website at theiv.ca or give us a call at 604-974-899