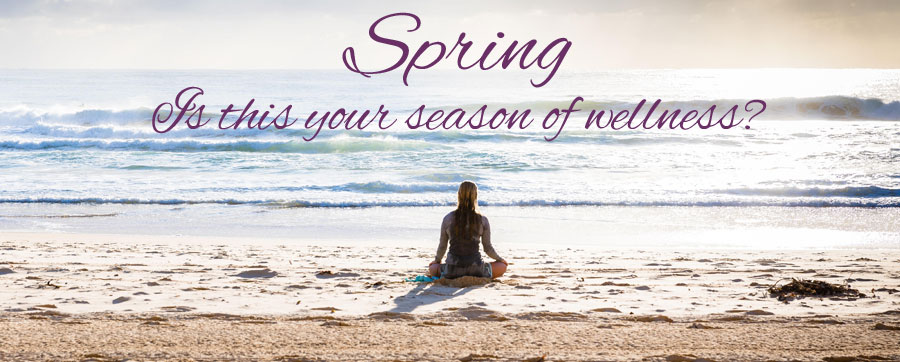 "Our bodies are our gardens, to the which our wills are gardeners." – Shakespeare
Spring is the perfect time for planting the metaphorical seeds in which you want to grow for yourself throughout the year. It is also the time of year when life tends to become a bit more fast paced – with the weather getting warmer and people becoming more social, it can be easy to sway from your self-care routine and lose sight of your commitments to your health. Here are some tips to help keep you on the right track this season.
Manifest goals
I like to encourage my clients to seasonally check in with themselves and take some time to think about and write down three personal and/or health-related goals they would like to achieve over the next several months. Having a clear idea of what you wish to create for yourself is the first step to manifesting your goals.
Creating space for reflection
Life tends to get naturally busier at this time of year, and it can be easy for many of us to lose sight of our intentions for ourselves. Setting aside some personal time every week to evaluate your progress can be an effective way to remind yourself of your goals and acknowledge your accomplishments and progress that you've made towards achieving them.
Self-care is key
Creating a healthy self-care routine is an integral part of boosting your physical health, self-confidence, and efficiency. It also enhances your ability to in turn help others around you. Prioritizing yourself is not always easy, but it is an essential key to maintaining a healthy relationship with yourself and recognizing the value of your physical, mental and emotional well-being. Learn to distinguish your own personal limits and boundaries and utilize your self-awareness to make healthy choices in your daily life that will nourish your body, mind and spirit.
Start the season off right by giving yourself the gift of a fresh start this spring. Whether you need an energizing IV treatment, a relaxing aromatherapy massage, a rebalancing acupuncture session or a confidence-boosting facial, our team at the IV health centre is here to support you.
— Marly Hill, RMT
To book an RMT appointment with Marly, visit our website at theiv.ca or give us a call at 604-974-8999