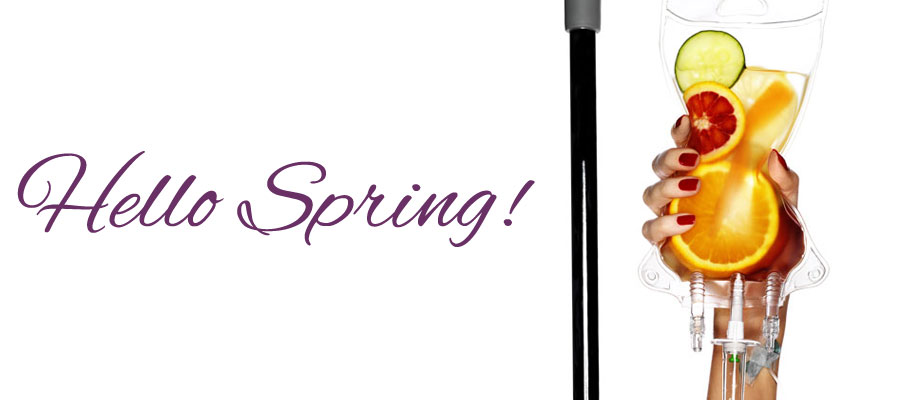 The sun is shining and there is a fresh feel in the air. It's time to get back outside and enjoy our beautiful city. The IV is ready to get you in the best shape possible so you can enjoy every ounce of sunshine. Check out our top three IV's for your best season yet.
Weight loss: Slim Jim Slim Jane
Are you feeling like those last few pounds just won't budge? This IV is formulated to help support your new healthy diet and your activity goals. It improves your metabolism so that with your hard work you can reap the rewards and slim down. Carnitine, a powerful amino acid, will help burn your fats efficiently and with the combination of methionine, inositol and choline your blood sugar will stabilize. This IV is a weight loss essential!
Allergies: Breathe Easy
Don't let pollen keep you indoors when the weather is too beautiful not to enjoy. The glutathione in this IV is a great decongestant and the Vitamin C will stop your immune system from going into overdrive every time a flower blooms. This IV is a must have this allergy season.
Energy: Go The Distance
This energy boosting IV is just what your body has been looking for as you start to enjoy more outdoor activities. The high dose of B vitamins are going to give you the energy you need to take that hike, paddle that boat and appreciate those views. The combination of minerals and amino acids are also going to make sure that your body can recover quickly from even the most strenuous activities.
IV Therapy can help support your health and wellness in magnitude of ways. If you're ready to feel your best this season, our team is here to support you.
-Dr. Erica Kubanek, ND
To book an IV appointment visit our website at theiv.ca or give us a call at 604-974-8999